Crafting desert
Arg.

Well, I have been crafting... for the last day or so, anyway.

I washed some wool, and introduced a couple of friends to dyeing. We have a reenactment event next weekend, so I was going for some muted, 'natural look' colors, even though I'm cheating and using food coloring. Yes, I know, if I was a better historian, I'd use period dyes, but I'm not good at mordanting yet, and I don't have a teacher in my town.

Here's what we ended up with:


That's the first batch. I love the green, and can live with the blue. They both manage to look pretty period. Amusingly, the green was intended to be more teal, but the wool sucked up the yellow and left the blue to sit. Same thing happened with another batch; the blue just doesn't want to strike.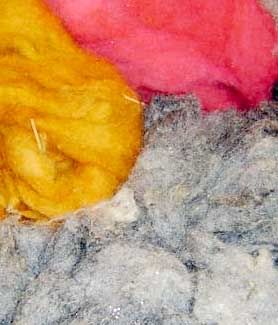 Here's the wool I washed, and batches 2 and 3. The yellow came out of a
brown
dyebath, but again, it took the yellow and left the blue, so the water was kind of leaf green and the wool is Winnie the Pooh orange. That's ok, too; WtP orange is basically a period color.
The pink? I swear to god, the dyebath was a muted red brown. Maybe that batch of blue dye was faulty? Yup, it took the red, and some of the yellow, and just left that blue to sit. Arg.
And then we experimented with handpainting yarn. This stuff is thick, felted wool, at a chunky or super bulky weight. We made little mini skiens, and each of us painted away.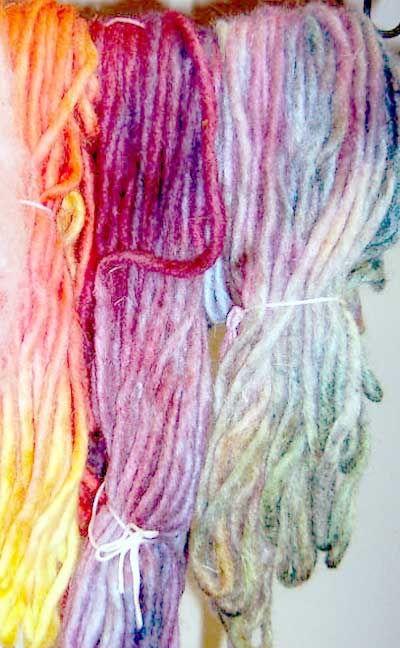 M's is the red/yellow one, and looks like fire. Mine's the purpleish one, and it's more blue in person, I think. And A's is the other one. She doesn't like it, but I think it looks like a garden; leaf greens and pale greens and bright flowers. I like it a lot.
Anyway... Hopefully I'll have some more crafting pics from next weekend. No crafting for a month makes Mouse a dull rodent.