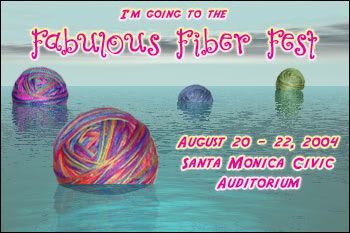 Anybody else going? Kitten and I are.
Feel free to steal the sidebar button if you're going. We should meet up somewhere. I'm going to try to collect all the names of the bloggers who are going. If you are, or know somebody who is, drop me a comment and I'll add you to the list!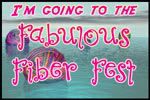 In other news I'm almost done with the yellow Sophie bag I started long ago. I've also decided that since I'm no longer following the sophie pattern, and never did in the first place (I eyeballed the numbers) that I'm not going to call it a Sophie bag. It bears no resemblance to the original, and I don't want people to look at the disaster my bag will probaly be and go "Ew, the Sophie bag sucks!"
The Sophie was the inspiration for my bag, but I'm going in a different direction.
What's so different about mine? Well, aside from the fact that it's the same size (roughly), everything. My bag won't have the twisted I-cord handle. I'm going to knit up to the lip, then make a kind of sloping decrease into the handle on both sides. When that's done, I'm thinking about adding a blue crochet edging around the handle and lip of the bag. I also might add a pocket or 50. I've always wanted to cut a hole in my knitting and pick up the stitches on the inside of the bag, making a pocket that doesn't bulge outward. And the 'lips' of the pockets might just be lined in blue, as well. And maybe a pocket on the outside as well, for change and such.
Here's the design pic I made.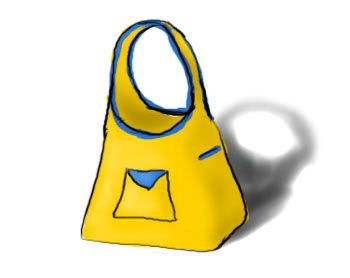 I'm in the market for a new name for the bag. Any suggestions? Right now it's called the "Not-Sophie bag."