Good Thursday!

Well, all right, not that good. Still looking at a way to make rent after my last day. But an ok Thursday, anyway. Though nobody bit on my offer to do graphics or website stuff on this blog, my other blog got me a small handful of work. That means I maybe won't have to start selling stuff to make rent! Yea!

A few posts ago, I showed you the painting I did of the Apple hat, (because I couldn't find my camera). Well, here is that picture again… and the completed hat! The colors of the painted version are a bit more true than the photo, but I'm lazy and don't want to go re-edit the photo...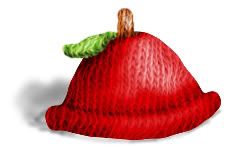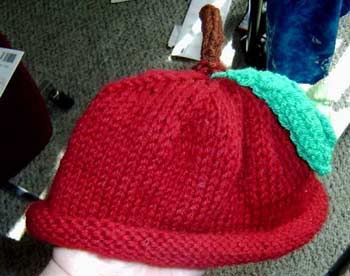 It's tiny. I've put it away for a baby gift if somebody I knows suddenly pops. Or maybe I'll give it to one of those preemie charities…
And I promised pictures of Mr. Bear. Here he is, slumped over like he's had a hard night drinking… His foot isn't twisted like that... just the way he's sitting.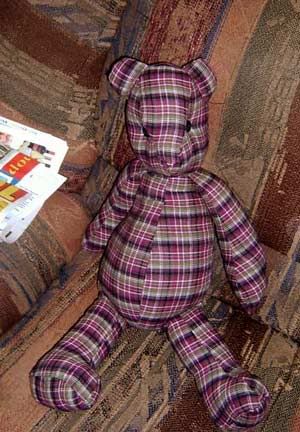 And, just because I had my camera out this morning, here's my craft area.

The yarn is all neat and tidy. Each cube has a different kind of yarn:
Upper left – fancy, expensive, hand spun, or dear-to-my-heart yarn.

Upper right – my fuzzy, furry, or loopy yarn. Boucle, mohair, and such.

2nd from top, left - all the wool yarn I use for Tangle (yarn destroying street theater thing). Was donated. I love you, that special person who donated it.

2nd from top, right – wool yarn in skeins. 3rd from top, left – random wool yarn. Rug yarn, and some other misc. stuff.

3rd from top, right – CRAP YARN! My stash of acrylic and other stuff.

Bottom right – unspun wool that for some reason isn't in the bins in the storage unit.

Bottom left – I dunno. The recycle box is covering it up. I don't think there's anything in there, actually…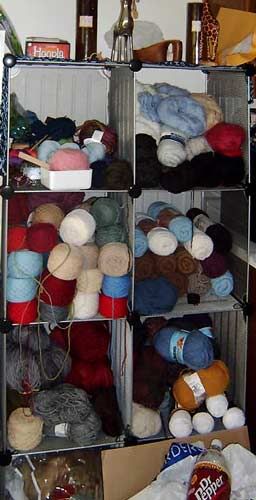 Bookcase, fabric stash, and notions box. The books are all catty-wumpus because they are too tall to go in upright. Top box is knitting books, bottom is other; spinning, sewing, felting, knot work.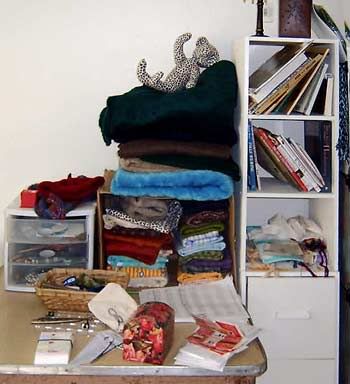 My sewing area! That's my beloved sewing machine (no, I haven't had it forever. I just got it.) It's got googlie eyes on it, so I always feel like I'm sewing with a character out of a cartoon show. And note that the Salvador Dali picture "Metamorphosis of Narcissus" is real, but the drawing of the sheep on the wall I added in Photoshop. The wall just looked too bare up there…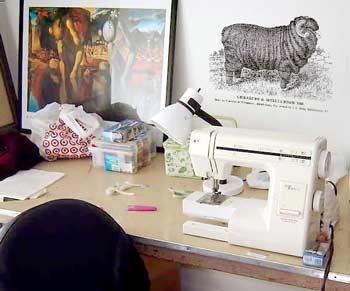 Speaking of sheep…. Here's the felted sheep bag I started more than 3 years ago. Just hand felted… this was before I knew about needle felting, which would have been perfect for that… Needs a handle, but I think it's cute. The sheep is a bit more distintive in person.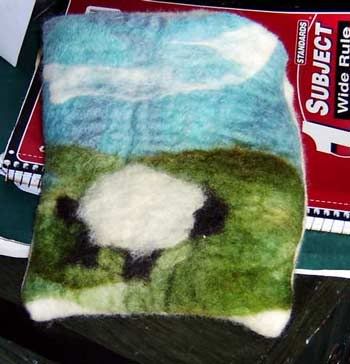 And here's something new! Kitten is making a very unique yarn. We're test knitting it right now… Here's two balls of the soon-to-be-available Reese's Fleeces: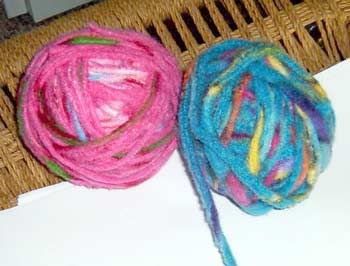 I knit an entire hat from the pink, and the ball didn't get very much smaller. I could probably do two more. And the blue has already knit me ¾ of a hat, and it hasn't really shrunk at all. It's like the basket of bread and fish… but for knitters.

Kitten should have some more to knit with soon…. Go bug her about it if you're curious…

I also joined Secret Pal 2 last week. I have all sorts of ideas on what to send my secret pal. Bad part is I can't tell any of YOU about them, becuase any one of you could be my secret pal... ::looks around suspiciously::

That's all for now. Back to work, you lazy thing!

mouse